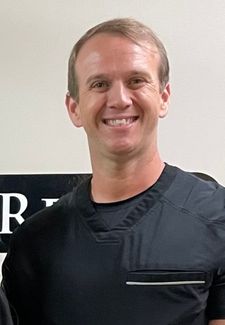 Jeremy E. Wilson, D.C.
Chiropractor, Owner
Professional Degrees
Mississippi College-Biology
Life University College of Chiropractic-D.C.
Professional Licenses & Certifications
National Board of Chiropractic Examiners
Professional Affiliations
Mississippi Chiropractic Association
Mississippi Board of Chiropractic Examiners
Specialized Training in Chiropractic Adjustments
X-ray Interpretation
Sports Injuries
Whiplash and Spinal Trauma
Muscular and Neurological Diagnosis
Orthopedic Testing
Auto Injuries
Welcome, Come Experience The Difference!
Our Mission
Our mission here at Tullos Chiropractic is to focus on getting our patients well without the use of drugs or surgery while using a hands-on approach through Chiropractic care to restore their quality and function of life. We provide these services in a Christian atmosphere and always praise God while giving Him the glory.
We believe in finding the cause of our patient's problems and not just treating the symptoms. As a team, we want to give our patients back their quality of life through Chiropractic and the most advanced technologies available in the world. Spinal adjustments, along with exercise and a healthy nutrition plan, enable us to provide this service. We also work closely with your medical physicians to provide complete healthcare.
It is important to our team that we serve, care, and love each patient as they are one of our family members. Our team strives to spend personal quality time getting to know our patients to reassure them that our ultimate goal is to restore their quality of life.
As a team, we pray that God, our Master Physician, leads us to meet each patient's individual healthcare needs. Educating our patients about the real meaning of health is important to us. Along with our skills and techniques, the body is allowed to heal itself by utilizing its own God-given inherited recuperative powers, therefore improving physical and mental health so that the body is allowed to function at its optimal state.
We're pleased to announce our new website! You'll find great new features, such as promotional coupons for first-time customers, a calendar of events, maps, and directions, as well as frequently asked chiropractic questions and resources on chiropractic techniques.